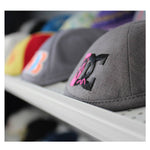 Custom Kippahs, Bulk Yarmulkes for Any and All Occasions
From Purim to Pesach, at Klipped Kippah designing a custom, one-of-a-kind kippah has never been easier or more fun. Whether you are celebrating a bar or bat mitzvah, a brit milah, or a Jewish wedding, made-to-order custom kippahs will be the most sensational party favor for your guests. And we got you (and your head) covered. 
Mazel Top!
We want you to look good, feel comfortable, and be confident in your kippah. All of the kippahs we create have our world-famous patented clips on the inside, therefore it will never slip off your head during services. No matter the weather or the activity you're doing, your kippah won't blow away. The edged clips inside each Yarmulke gently grip your hair to avoid damaging your scalp, but the clips are still strong enough to prevent your kippah from being knocked off.
Show Your Personality
More than just the customary requirement that the head is covered, a kippah reflects who you are as an individual. Do you love the Yankees? Does your child love cars or planes? From your favorite sports team to your child's favorite plaything, each Kippah can be made in a variety of materials, from burlap to linen, cotton to velvet. 
Show your school colors, advertise your business, because we supply yarmulkes to schools, synagogues, organizations and more. This is your chance to get creative and shine. You dream it; we'll put it on a kippah. You can design your yarmulkes with partial, full-image designs or embroidery. Just send us a vector image file of your image, or contact us for help with your design ideas. 
Bulk Custom Yarmulkes
Enhance your event with beautiful, customized bulk kippahs. Add names, dates and special details to commemorate the special occasion. Choose from a variety of colors that will complement the theme of the event. Outside wedding? No problem, because Klipped Kippahs won't fly off in the wind. The attention to detail and care for our customers is why Klipped Kippahs is the chosen one for all kippot needs.
More Than a Mitzvah
Our creativity doesn't stop with Kippahs. We create customized t-shirts for all occasions, as well. Put on your thinking kippah and think ahead to the holidays and other special events coming up in the next year. Whether it's a special family slogan for a reunion or a specific image, Klipped Kippahs can do so much more for your weddings, anniversaries, birthday parties and celebrations. 
Enhance Your Simcha
Wear your Jewish identity openly when going to synagogue, attending religious school, participating in a Jewish event, or wearing one at a ballgame, concert or on the street. A custom kippah announces that you are not only Jewish but that you are a proud and observant one.