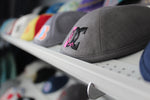 A personalized Kippot is the highlight of every Jewish event. Whether you are celebrating a Bat Mitzvah or even a brit milah or a Jewish wedding, made-to-order kippahs will be the most sensational party favor for your guests. Klipped Kippahs can design, create and personally sew the Kippah of your dreams to suit your style, budget and preferences. 
Need customized colors to match your celebration's color scheme? We've got you covered! A magnificent custom yarmulke is more than just a party favor; it becomes a treasured souvenir of your Jewish event.
Create a Memorable Experience with a Custom Kippah
There are hundreds of styles and colors of custom kippahs' that can be personalized and designed by either you or together with a team of experts in real-time virtual studio sessions. 
 You can easily design your own logo online, and get it embroidered or printed on your yarmulke. Or, choose from an array of existing patterns and fabrics. We have the ability to rush orders with our own in-house screen-printing machine. This means your beautiful, one-of-a-kind yarmulke will be ready in time for your joyous event. We will print the inside of the yarmulke with your personal information as well. 
A Bat Mitzvah is a once in a lifetime milestone that many like to create themed events to make it even more special. Every 12 or 13-year old girl has special things that they love, like music, sports, movies, dance, food, fashion- the list goes on and on. Themes for these parties are wide open to her imagination. With a custom yarmulke, the possibilities are endless. We have the kippah to match your theme whether it be your favorite MLB or NBA sports team, or even your favorite print such as tie dye or camouflage, we've got you covered!
Top Off Your Event With a Custom Kippah
At Klipped Kippahs, we design, cut, sew and personalize all of our kippot in-house. We carry a huge selection of Bat Mitzvah kippahs, or for any other special occasion. We have kippot available in every size, fabric and design that you can imagine for what will best suit your occasion. We proudly supply bulk kippahs to many synagogues, schools and organizations across the nation. To top off your event, we also offer an array of customizable apparel, bags, face masks and other accessories necessary for a proper Jewish event!
As with any celebration at this scale, coordination is essential in order to tie everything together. The preferred theme can be integrated in a number of ways, such as with décor, music choices, food, invitations, dress code and venue selections. Personalized kippahs can commemorate the occasion for years to come with kippots that revolve around your color scheme or a particular type of fabric. 
Memories Made Easy!
We understand that while a Bat Mitzvah is a joyous event, planning all of the details can get stressful. That is why our dedicated team is here to assist you however we can. In addition to customizable kippahs, we also have the ability to customize apparel, drawstring bags and even face masks. We know you've already decided on a budget, so we won't try to upsell you. But we have the convenience factor to allow all of your customizable needs to be accomplished in one place!
 The kippot for your festivities can be selected to fit the size range of those attending the party- with sizes and shapes pre-determined by the amount of kids, young adults and adults that will be present at the ceremony. After the event, the personalized goods make great party favors. They can continue to be worn by those who received them, it perpetuates the occasion and becomes a wonderful reminder of the ceremony and festivities of the Bat Mitzvah.